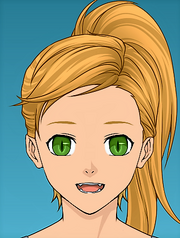 Mio Tanazuki is a natural born ghoul rresiding in the 20th ward. She is currently not affiliated with any factions.
Mio Tanazuki
Characteristics
Name
Mio Tanazuki
User
/u/Owling_to_the_beat
Species
Ghoul
Status
Alive
Age
14
Gender
female
Height
155 cm
Weight
53KG
Affiliations
None
Ward
20th Ward
Rc Type
Koukaku
Rating
C-
Image Gallery
STATUS
Mio is currently suffering from severe memory loss.
RELATIONS
Mio has relations to the ghoul Kane Heyma, she is residing in Kane's previous hideout in the 20th ward.
OTHER
Has a frail body and is unable to utilize her kagune well, relies on hand to hand combat.
Usually in a good mood.
Community content is available under
CC-BY-SA
unless otherwise noted.